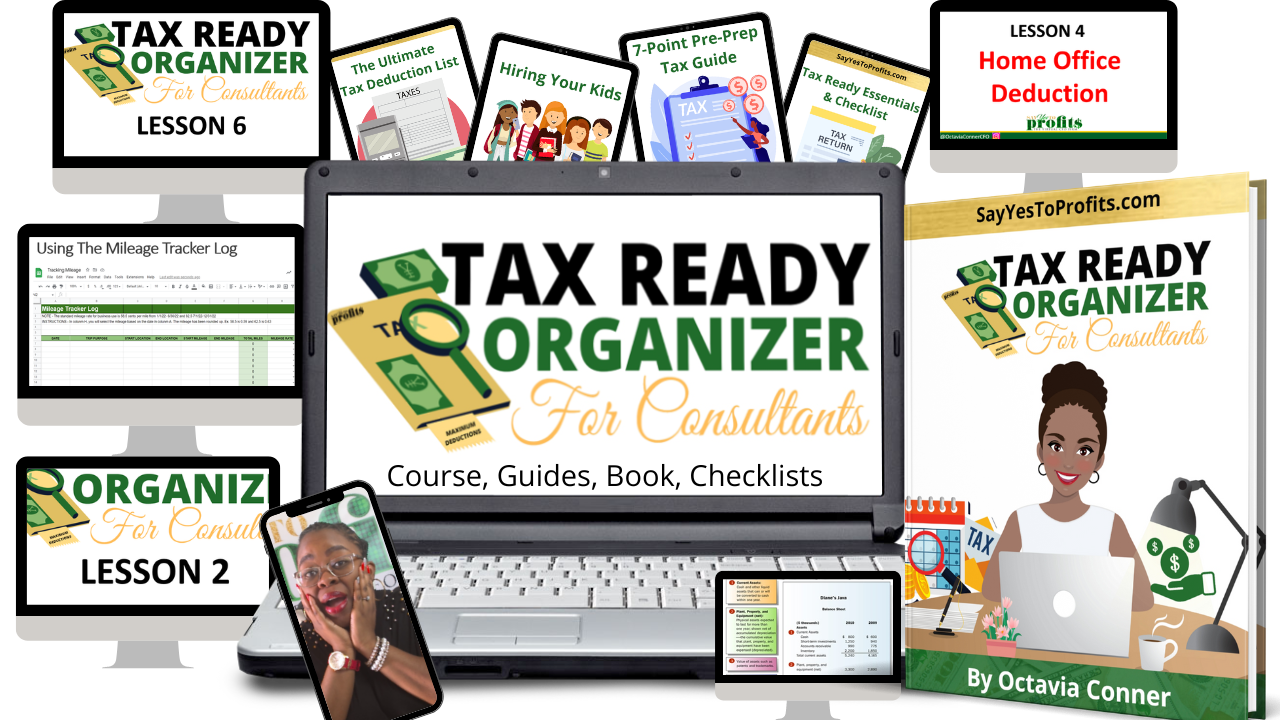 Does The Thought Of Tax Season Cause Stress & Anxiety?
The Tax Ready Organizer for Consultants is everything you need and more to experience a stress-free, pain-free tax season experience.
What's Included:
✅ The Tax Ready Organizer for Consultants Workbook
✅ Seven Easily Digestible Video Lessons
✅ Four Comprehensive Bonus Lessons
✅ Three Plug-and-Play Templates
✅ 7-Point Pre-Prep Tax Guide
✅ Plus More!

STOP AVOIDING THE UNAVOIDABLE & HAVE A STRESS-FREE TAX SEASON!
Taxes, taxes, taxes! Many business owners hate to hear the word "TAXES"! Do you?
If so, you are not alone. Tax time for consultants and small business owners can be one of the most stressful times of the year.
You may be a business owner who often waits until the last minute to complete your taxes. But listen, that is the wrong thing to do! Waiting until the last minute to complete your business taxes often leaves you overpaying in taxes by a significant amount!
Then you have those experiencing tax season as a business owner for the first time. And despite your best efforts, you could not keep your accounting records in order throughout the year. Is that you?
Finally, you have the self-employed consultant who has searched the internet for hours trying to understand how to get their taxes in order and pay the smallest amount possible, but they don't know where to begin.
Well, have no fear of the upcoming tax season because we have designed a course to help you get your finances in order, understand the IRS tax rules and regulations, and maximize your tax deductions!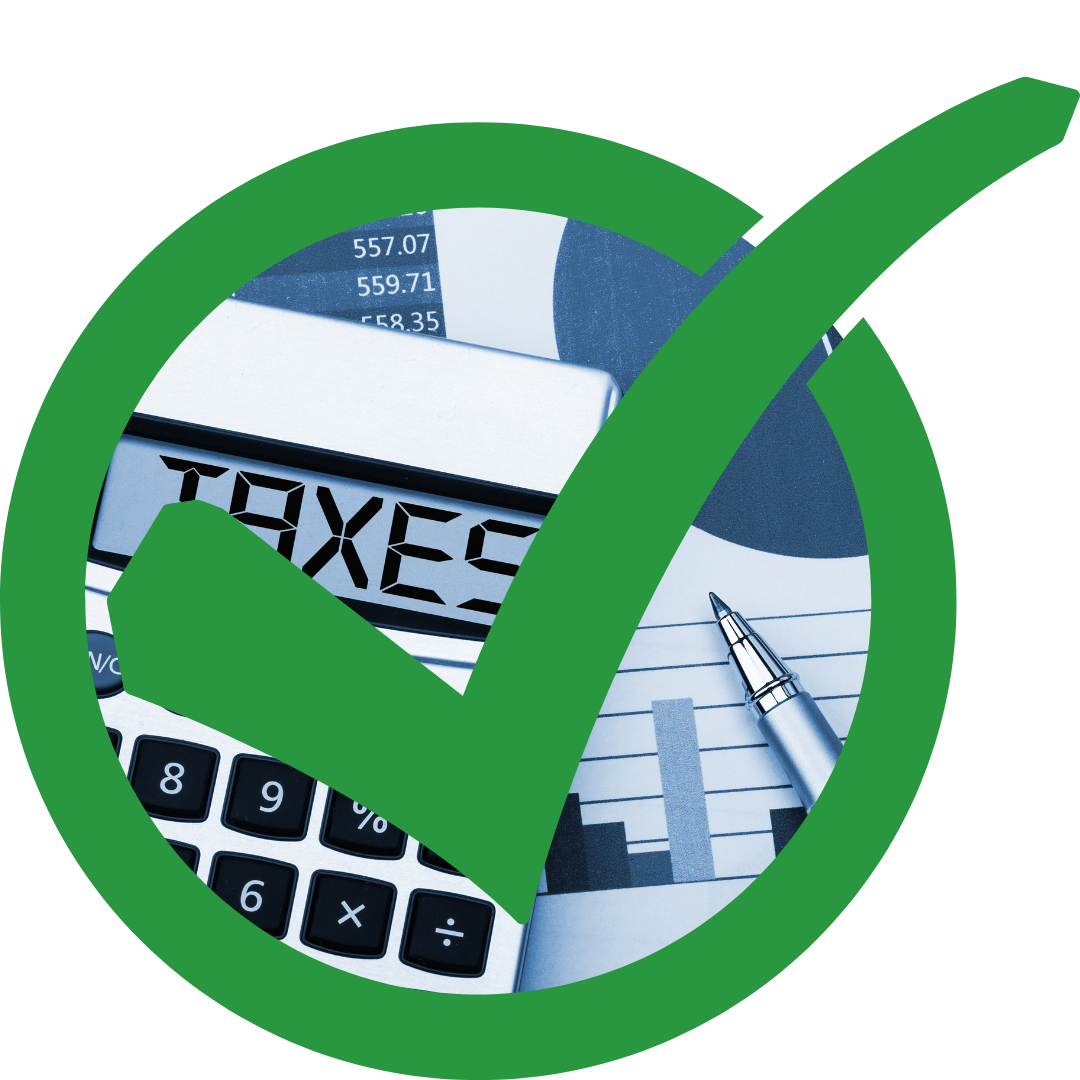 No more searching the internet for secret tax deductions.
Everything you need is in one place.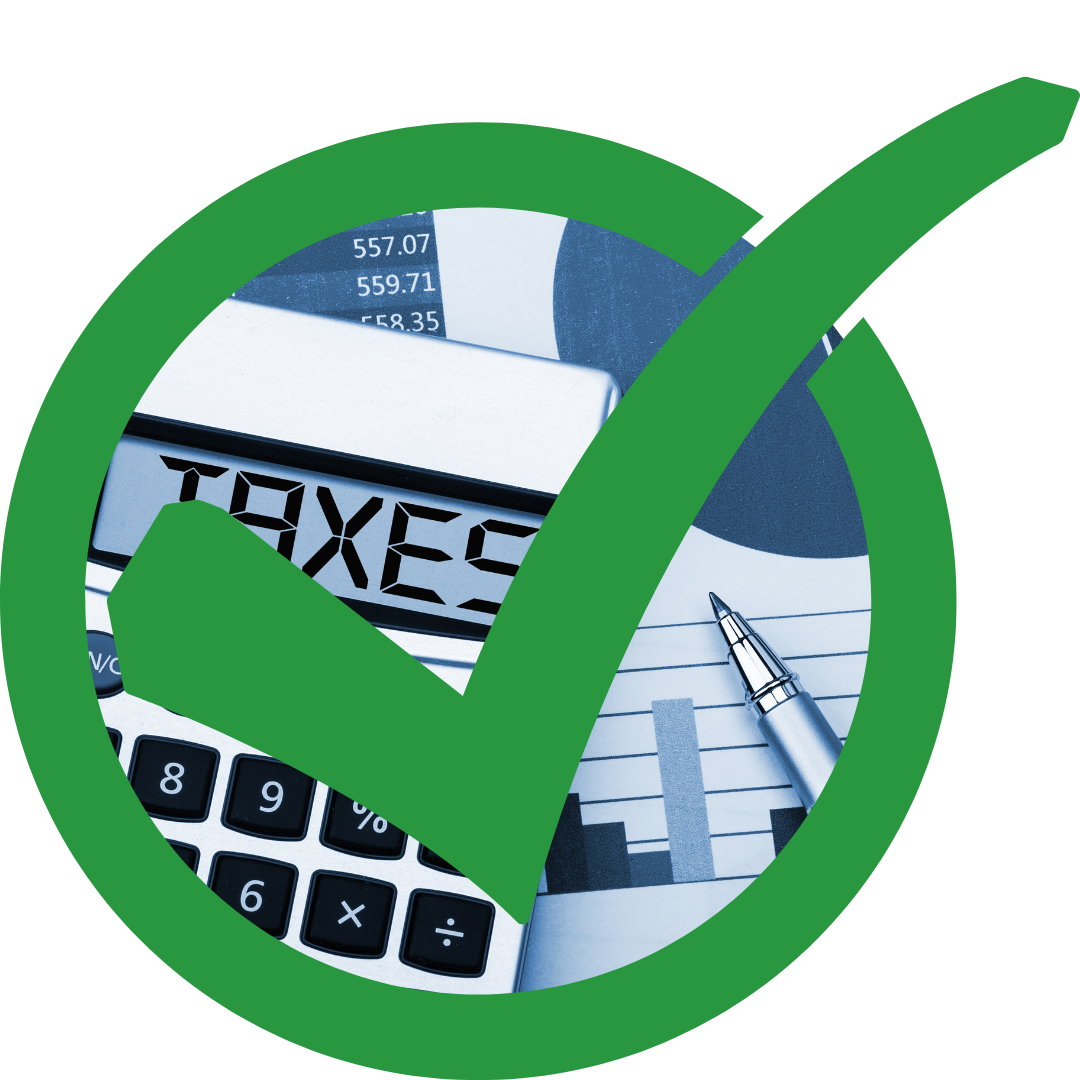 No more wondering if you're paying too much in taxes.

You will learn over 50 tax deductions and secret tax short cuts often missed by consultants and small businesses.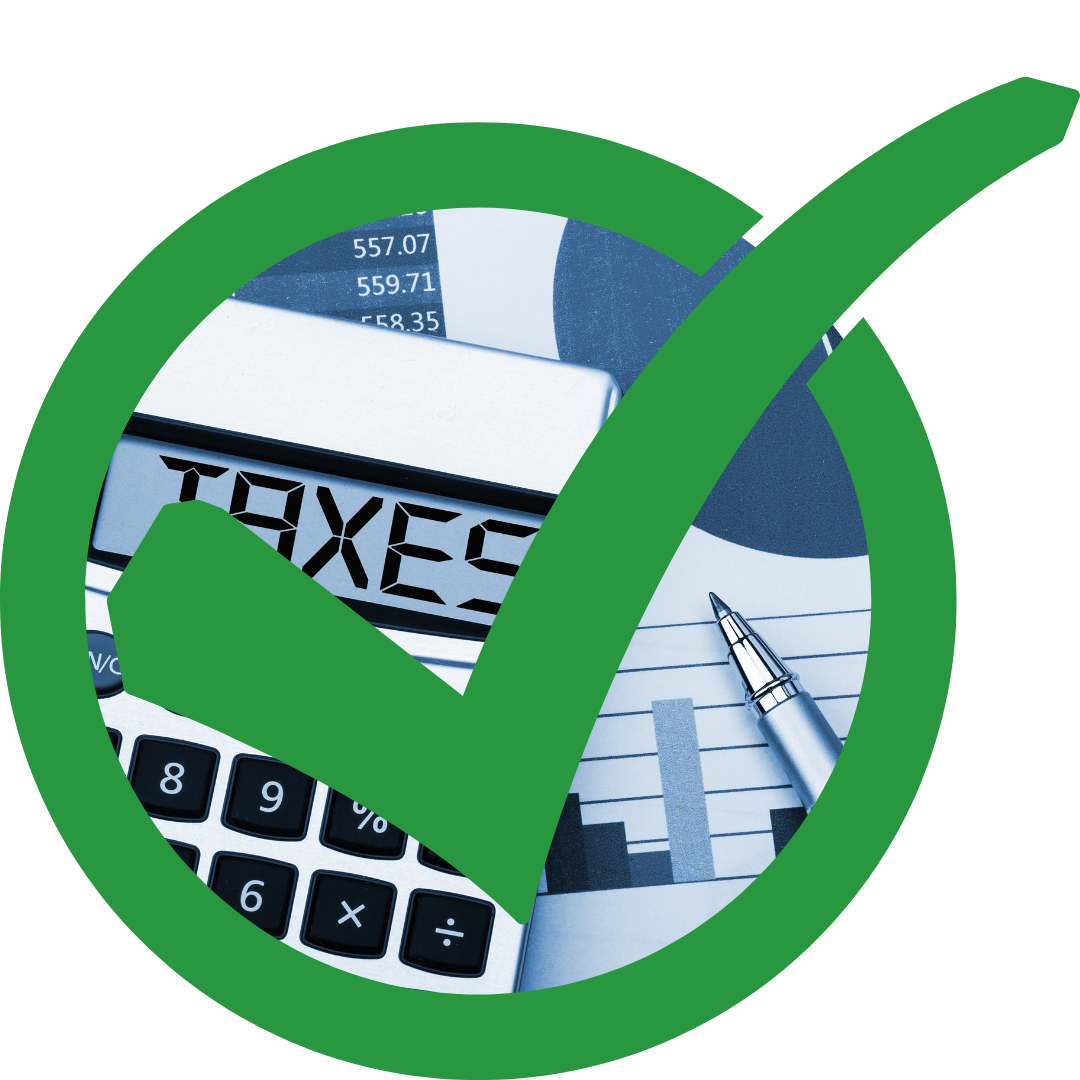 No more waiting until the last minute to file your taxes.
Now you will have checklists, plug-and-play worksheets, a workbook, and more to have a pain-free, maximizing deductions, tax season!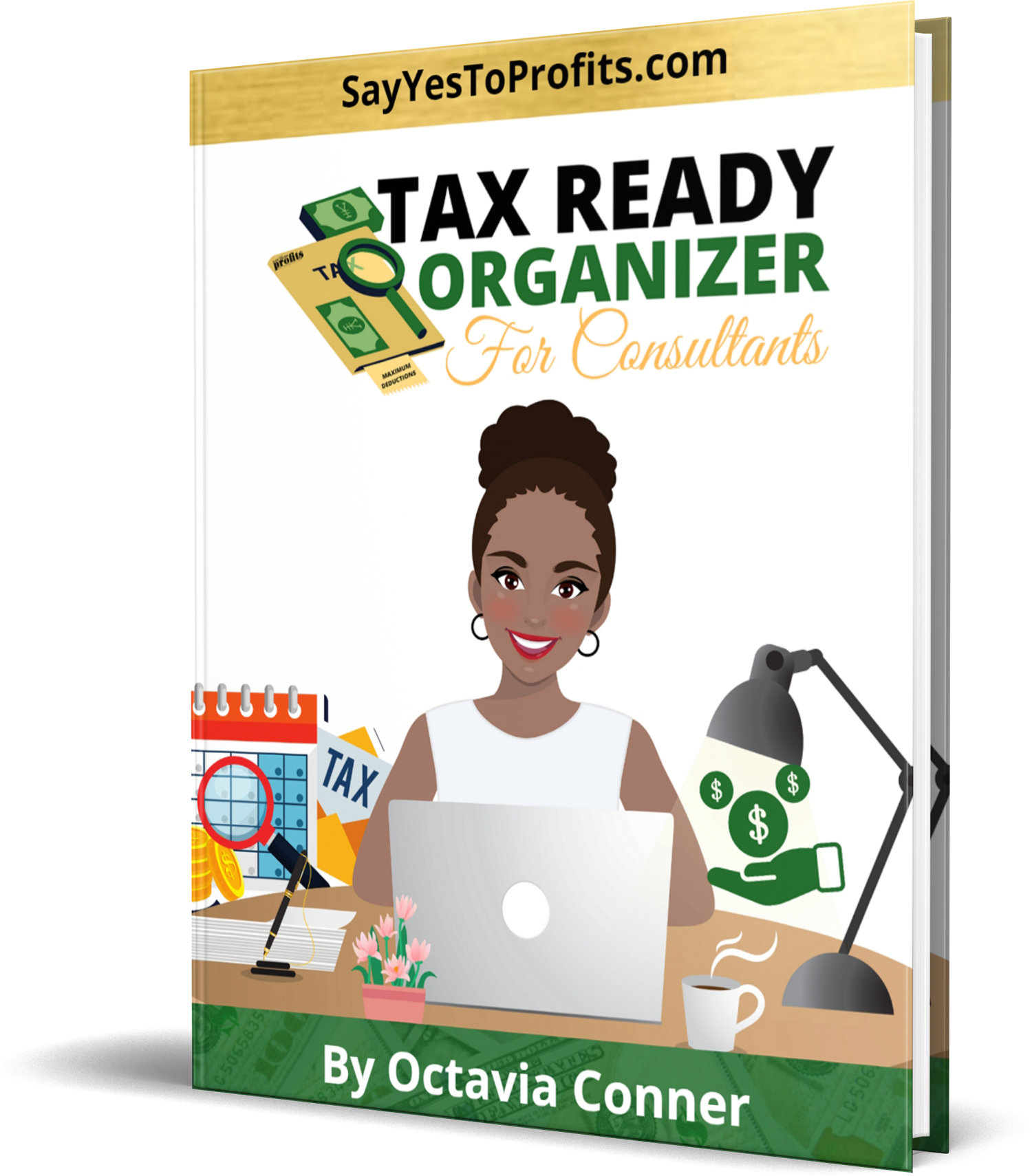 A 40 Page Copy Of The Only Book Consultants Will Need To Maximize Their Tax Deductions (PDF Copy)
This Tax Ready book is jam packed with checklists, IRS secrets, industry insight and key tax strategies and information to help you prepare for the upcoming tax season.
In the book you will find:
✔ The personal and business information you should gather to file your taxes with ease.
✔ A Tax Ready Checklist
✔ Important Tax Deadlines
✔ A Comprehensive Tax Deduction List for Consultants
✔ A list of commonly forgotten tax deductions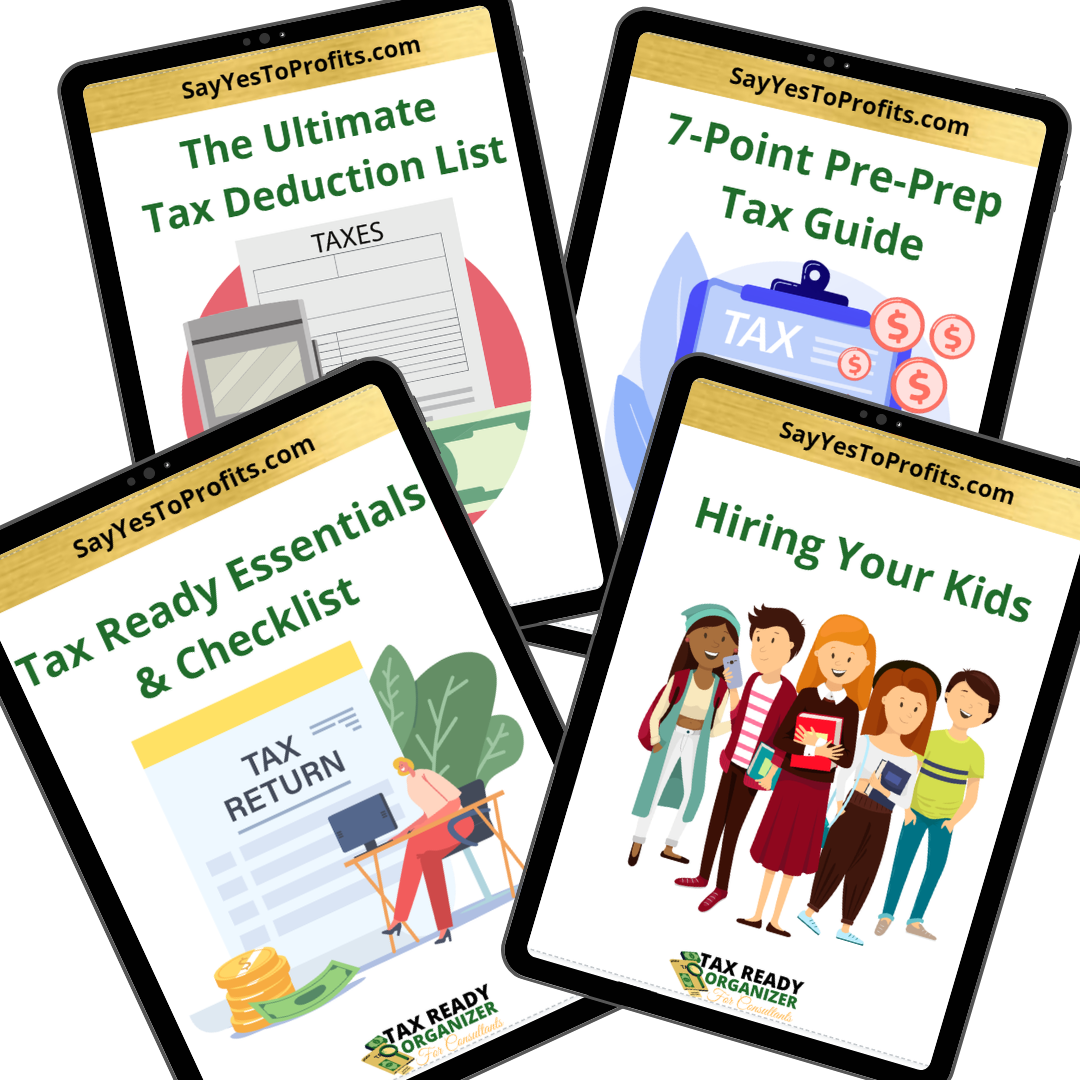 4 Deep Dive Tax Ready Guides
The four deep dive Tax Ready guides are included in the book.
These guides identify what you must do to reduce your taxes to the smallest legal amount possible.

These guides complement the video lessons, and they include:
✔ Over 50 tax deductions
✔ The correct way to hire your kids and the maximum deduction you can take
✔ 7 steps you must take to have a stress-free tax season
✔ The difference between an employee and contractor and how the IRS take on each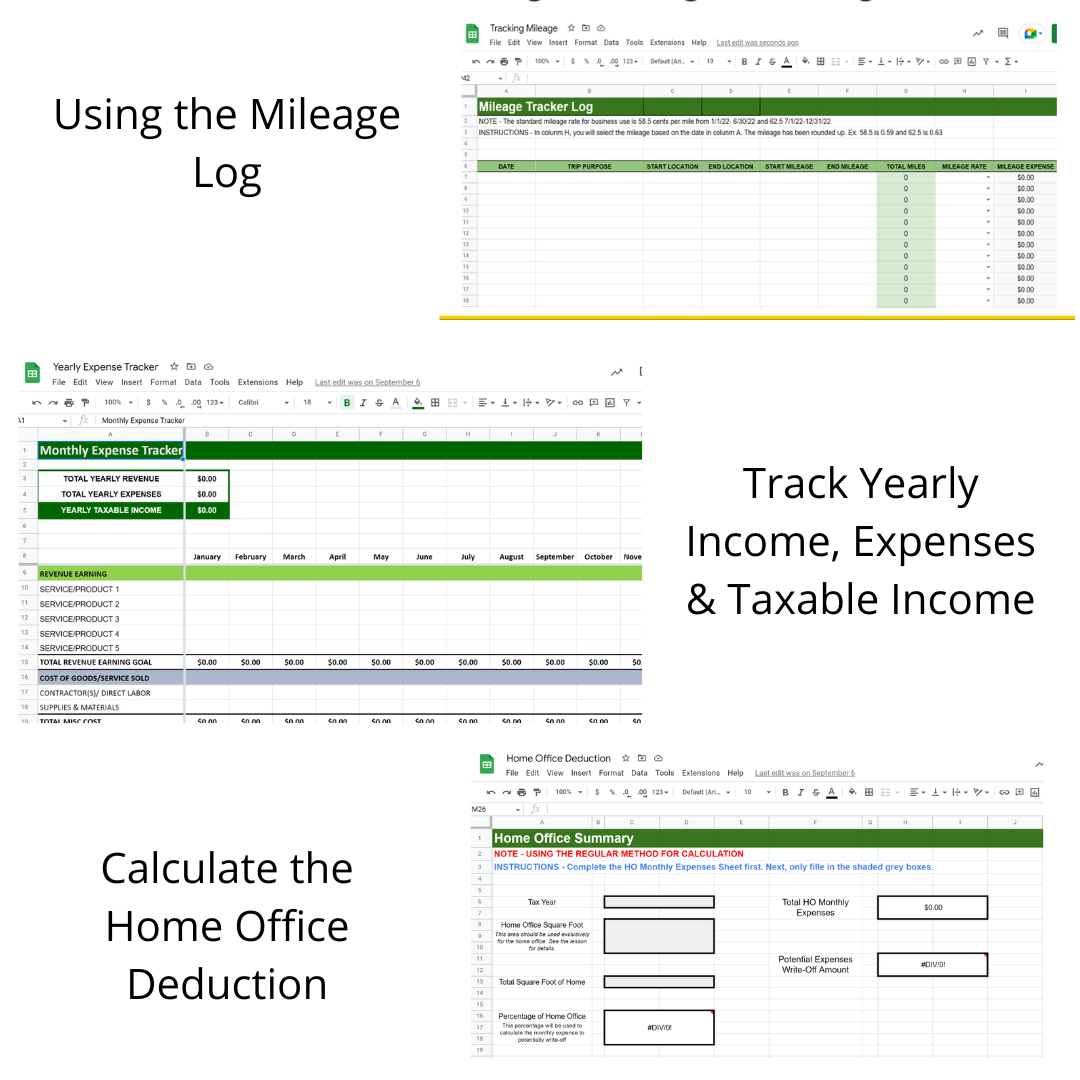 Plug-and-Play Tax Workbooks
These in-depth tax workbooks will provide you with the confidence to take advantage of the tax rules while saving you time and money!
The workbooks include:
✔ The Home Office Deduction Calculator will help you identify the highest amount you can write-off
✔ The Yearly Income & Expense tracker to help you create a Profit & Loss Statement with ease without needing arduous accounting software
✔ The mileage log to help you track your mileage for the year against the ever-changing mileage rate.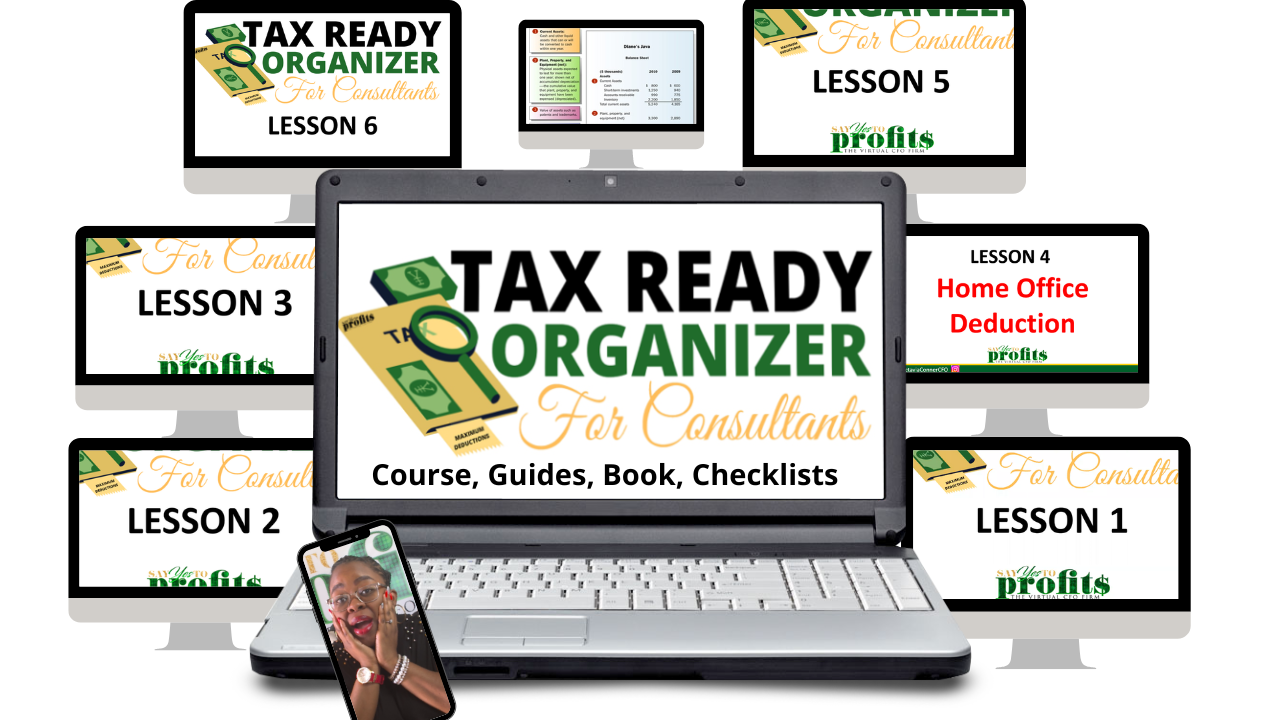 Seven Easy To Understand But Impactful Lessons
The video lessons will help you quickly digest the tax rules to maximize your tax write-offs.
The following is included:
✔ A breakdown of the fundamentals on how to lower your taxable income
✔ A deeper dive into the home office deduction, mileage changes, employment rules, business tax short-cuts, and more
✔ How to use retirement contributions as write-offs

✔ Bonus content on how to reduce small business taxes and maximize profit 
About Octavia
Brief Bio:
After spending over ten years in corporate America, helping to build multimillion-dollar businesses as the "go-to numbers girl," Octavia decided to ditch the 9 to 5 in 2011 and build her dream business instead. With a laptop, a busted printer, and nominal savings, but full of passion, Octavia embarked on a journey of providing small businesses with advanced financial management support, strategies, and solutions. Her passion led to the birth of Say Yes To Profits.
After leaving her corporate 6-figure career to become a full-time entrepreneur, Octavia experienced a period she titled "Broke, Busted, & Disgusted - Breakthrough.". During this challenging time, Octavia was completely broke and broken. From building her dream home from the ground up to one month away from foreclosure. Octavia wondered, "how could this be happening"?
She returned to corporate America part-time while rebuilding her business from scratch. Within 14 months, she reemerged as a full-time six-figure business owner, scaling to seven figures during COVID-19. She is a walking success story! As of today, Octavia teaches business owners how to get their finances in order so that they cross the seven-figure mark within three years of working with her and her team. She has helped over 90% of her clients grow between 30% and 350% within 12 months. 
Octavia has been quoted in Forbes and featured in ENSPIRE Magazine, Voyage ATL, Afro Tech, Inuit, and many more. Selected as a top 50 accountant in North America for two consecutive years and an award-winning best-selling author and professional speaker Octavia combines over 20 years of business, accounting, and financial experience.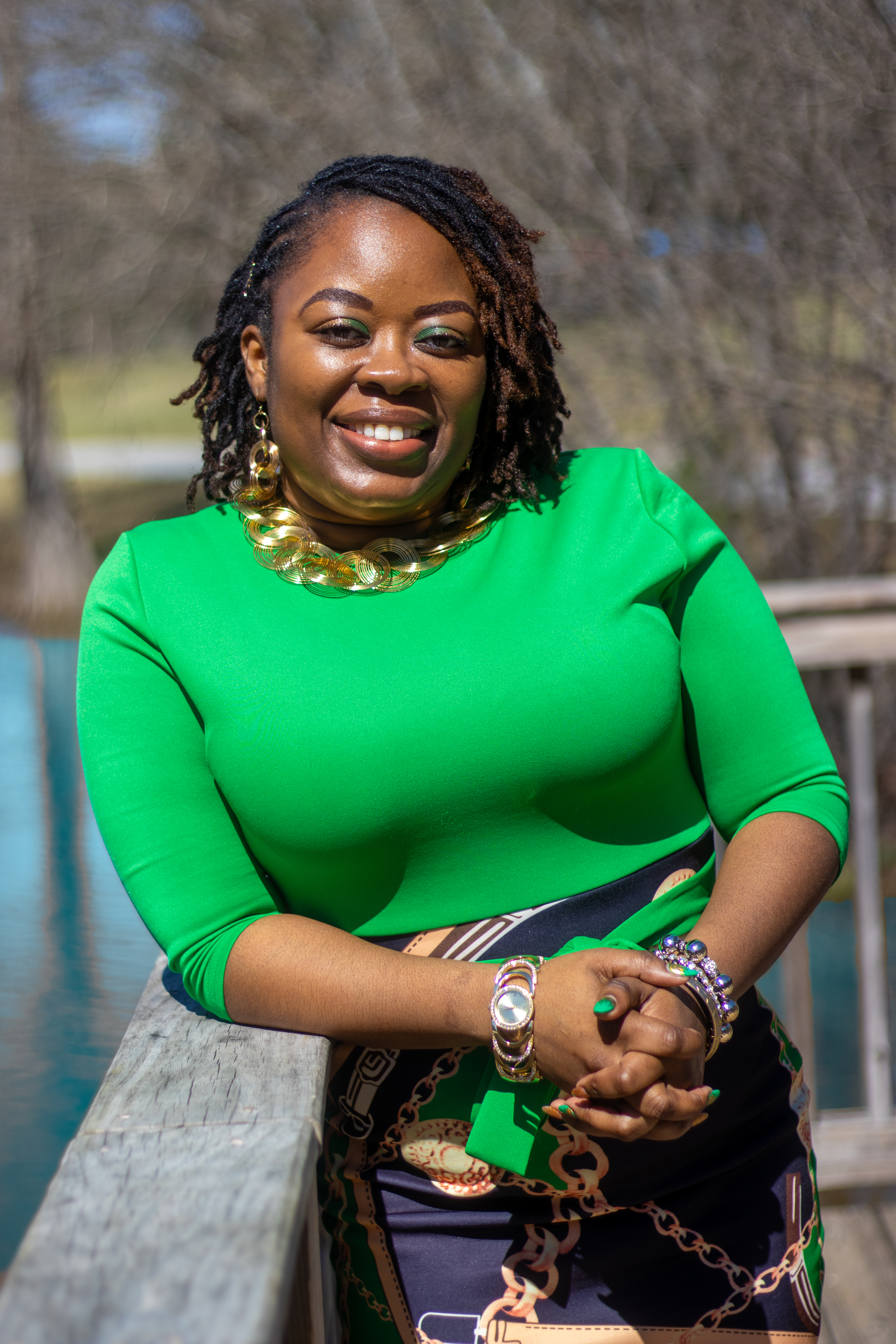 If you've arrived at this part, I'm pretty sure you know you need this course by now.
Don't allow this tax season to be stressful because you procrastinated.
Taxes can be a walk in the park when you enroll in this course, where we have laid it all out for you in a simple but powerful way!
It is said that 87% of small business owners overpay in taxes by $11,000 a year. Don't allow that to be you.
Enroll in this course and learn the tax strategies that have positioned the clients of Say Yes To Profits to legally reduce their taxes by 50% or greater in one year!

© Say Yes To Profits Academy 2022